Sedbergh and District LookAround
A Classical Collection Thursday 11th December 2014
From the Sedbergh & District Lookaround
February 2015
Dear Lookaround,
The joy of playing in the Sedbergh Orchestra.
I am writing to tell you about the lovely experience I had recently, playing in the recent Sedbergh Orchestra concert - 'Classical Collection'- at St Andrews Church, Thurs 11 December 2014.
I must confess, I am addicted to music and to everything that music can bring. "Have violin, will travel ". I am so lucky to play the violin. It opens doors and makes friends. It got me into the National Youth Orchestra of Great Britain as a teenager, and later into a career as professional musician for a few years, full time in the Halle Orchestra in Manchester and then the Manchester Camerata and Northern Ballet orchestras. My violin has taken me to Spain, Texas, Germany, Switzerland, and Hong Kong, and many places in the UK. I now play a lot as an amateur, in orchestras and chamber music, mainly around Manchester.
I often revisit Sedbergh where I was born and raised, and in many ways it still feels like home. So I was delighted when friends in the Sedbergh Orchestra said I could bring my violin along and join in their concert of Classical Music. The programme was enticing. Beethoven's Egmont Overture, Haydn's Cello Concerto No2 in D, Mozart's Symphony No 40 in G minor. Great music, wonderful to listen to, and what a bonus to be playing as well. How good is that? What's not to like? If I stayed the night I could visit my Uncle the Reverend Bill Long next morning.
So despite the weather, I drove up from Manchester on the day of the concert, parked nearby, got a cup of coffee, then went into the church which was warm and full of good memories (including my own wedding years ago). Everything was ready. Smart red chairs; black music stands, lighting, movable platform. Evidence of all the dedicated teamwork that had been going on behind the scenes, which will also have included countless phone calls, emails, music hire, publicity and programme printing, interval refreshments: all superbly organised.
The pre-concert rehearsal for me was essential. The easy bit is joining in at the last minute when all the hard work has already been done by everyone else in the weeks of rehearsals before. But no matter how good and clever I may think I am, I would hate to play in a concert with no rehearsal. This final rehearsal was short and to the point; mainly 'top and tailing'. It enabled me to find my seat, check the right music was on the stand, ensure I had enough room to play, and that the sight-lines were good enough to see the music and the conductor Peter Crompton and the leader Sue Armstrong. Much depends on 'fitting in', responding and copying others. A tail-ender like me relies on all this plus orchestral experience, quick reactions and friendly support from musicians nearby. Fellow violinists, Wendy Cann (my desk partner) and Richard Best to my left, helped me enormously, both by example and with whispered information in rehearsal such as "we don't do this repeat"; "there's an extra a pause on that note"; "that should be an up bow" and "no vibrato there". The atmosphere was keen and friendly.
Then, after a short break, the Concert itself began. In our concert black, united by our love of this gorgeous great music, assisted by the favourable acoustics of the church, we all played our best. We shared the inspiration and buzz, the joy and excitement of live musicmaking, the miracle of playing together with telepathy and sympathy. It all went well. One of the highlights for me was the lovely playing of the young cello soloist Daniel Crompton in the Haydn concerto. What is so special about young musicians? The answer is freshness and clarity of tone, beauty of expression. And he even played his own cadenza. I went to hear him again in Manchester on 10 January 2015, at the Royal Northern College of Music chamber music festival of Czech music entitled 'Ma Vlast', in an ensemble performing Martinu's String Sextet. We wish him every success in his career.
Then, after the concert, a bit like après-ski, there were more treats. We were still 'on a high'. As well as the chores of packing up stands and music, chairs and platform, there were the social benefits, meeting old and new friends in a little party afterwards like an extended family. I already knew twelve members of the orchestra from other contexts, other orchestras and chamber music courses, and I felt a great community spirit.
Sedbergh and music definitely go together. Proceeds from the concert were going to Sedbergh Pepperpot Club, supporting the Orchestra and young musicians locally. This was surely a great use of the church and its facilities, serving the community.
A huge thank you to my late parents Kay and Kenneth Anderson who started me off on the violin when we lived in Sedbergh. Thanks too to Sedbergh Orchestra for their warm welcome, this enjoyable concert, and especially to Don and Shirley Smith for their hospitality.
Mary Anderson, Didsbury, Manchester
Summer Café Concert Thursday 2nd July 2015
From Sedbergh & District Around
September 2015
SEDBERGH ORCHESTRA SUMMER CONCERT
All that was missing were decorative palm trees dotted among the festive tables, but in a way, the Orchestra in colourful rig was conducted by its own Max Jaffa, the fiddler of rare skill himself, and a very jolly host, namely the conductor, Roland Fudge. Around them was the hum of anticipation from a packed audience, gleefully sipping good wine and fruit juices.
Roland Fudge ConductsCafe Concert; Sedbergh Orchestra; conductor Roland Fudge; Leader Val Snelling; People's Hall; 2 July 2015
The programme on paper was of much loved favourites, full of colour and fine melodies. I say 'on paper', because while the attractiveness for the audience is undeniable, in the performance every one of the pieces has real technical challenges for soloists, problems of intonation and ensemble, all underpinned by many complex rhythmical patterns, putting real pressure on everyone. But one of the joys of this concert was that Roland Fudge made everyone in the band feel relaxed and up for it. He exuded a sense of fun and love for the music. The result was that for me at least, the orchestra played better in genuinely tricky repertoire than I think I have ever heard them.
Some of the warhorses were reasonably straightforward to take for a trot - 'Walking the Dog' [real dog being walked, incidentally], Offenbach's Can-Can, the Grieg Elegaic Melody – all well done. But the Dvorak, Mussorgsky, Monti 'Czardas', and above all the hairraising Chabrier 'Espana' were most certainly champing at the bit and bridle. Infectious and toe-tapping indeed. And who'd be a horn player knowing that that gorgeous Mendelssohn nocturne lay in wait – beautiful for the audience, oh yes, but a wicked test for you! All in all, percussion and brass throughout this concert had to be right on their game, and by and large they rose to the challenges with energy and confidence. Reed and woodwind were showcased as well, but for me the flutes really caught the ear with some very deft work. Roland Fudge led the gypsy dash in the Monti 'Czardas' with characteristic skill and brio. This was a truly happy occasion, and many thanks to all concerned for a fine summer evening in the well set-out People's Hall 'café'.
Stuart Manger
Orchestra Contrasts Thursday 19th November 2015
From Sedbergh & District LookAround December 2015
The Sedbergh Orchestra played Orchestral Contrasts in St Andrew's Church, on Thursday 19th November.
On a number of levels this was an evening of revelations. The young violinists, Kasia and Monika Davies provided the first revelation. So young (16 and 13 respectively) yet so precociously talented, they played J S Bach's challenging Double Violin Concerto with assurance, practised discipline, the fearlessness of youth and an empathy that only sisters could bring to such a performance. They sparkled and pranced their way through the first movement, which perfectly complemented the slower, second movement – largo ma non tanto. Even the most experienced of virtuosi find this movement difficult to sustain, yet here they were, young Kasia and Monika, playing with sensitivity and musicality. They boldly added their signatures to Bach's intertwining melodies – and went on to attack the final movement with appropriate style and passion. They managed to articulate the modulating motifs with finesse and, on occasion too, with imperious force. This was indeed, a very fine performance.
The second revelation came in the form of two obscure pieces each written for ten wind instruments. Probably few in the audience had encountered the pieces before – I certainly had not. The first piece, Andante in E flat by Sergei Ivanovich Taneyev was very well worth its airing. It is an elegiac piece that hints of darkness. It has to be played with precision and careful nuancing, and that is just what it got. The result was a subtly layered palette. By contrast the second item, Vivace from Sinfonietta in F. Opus 188 by J Raff, was light and crisp. Sinfonietta is an engaging piece and the flautists, Philip Gruar and Liz Rice, exemplified its lilting quality in a haunting melodic interlude. Altogether, the Wind Ensemble covered itself in glory. It would be good to hear much more of them in future.
The third revelation was the most striking of all. It was the Sedbergh Orchestra itself. It came of age on 19 November 2015, with a performance of considerable accomplishment. Of course Beethoven's First Symphony is familiar ground, but the Orchestra gave it life, performing it with verve and insight. They produced a rich and mellow sound and coaxed from it textures of colour, light and shade. Waves of rich sound and muscularity were interspersed with light touches of mischief. There is a new confidence about this orchestra, suggesting that an exciting future lies ahead. The conductor, Peter Crompton and the Leader Sue Armstrong are to be congratulated for moulding a collection of fine individual musicians into such a well-balanced orchestra. It is a tribute too to Shirley Smith who has worked so tirelessly to promote music in Sedbergh.
The large audience in a packed Church enjoyed every minute of this excellent concert.
Mike Leigh
From the Cumberland and Westmorland Herald
Date: Friday 27th November 2015
Violin-playing sisters hit a high note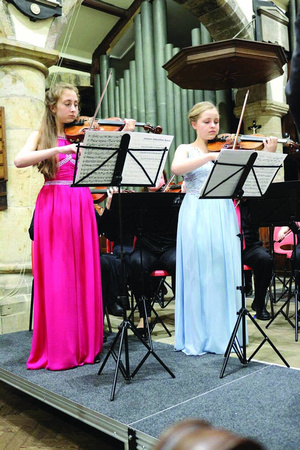 Kasia and Monika DaviesSISTERS Kasia and Monika Davies gave an accomplished performance of Bach's Double Violin Concerto with Sedbergh Orchestra at St. Andrew's Parish Church.
SISTERS Kasia and Monika Davies (left) gave an accomplished performance of Bach's Double Violin Concerto at St. Andrew's, Sedbergh.
They were invited to perform with the Sedbergh Orchestra and Monika plays on a violin kindly donated by the Sedbergh Pepperpot Club.
Kasia is a year 11 student at Queen Elizabeth Grammar School, Penrith, and has achieved a distinction at grade eight. This year she has thoroughly enjoyed the opportunity to take part in the National Youth Orchestra Inspire Days.
Monika is in year nine at QEGS, and in February achieved her grade eight with distinction. She is studying towards her diploma. Both girls also play in the City of Carlisle Orchestra and Cumbria Youth Orchestra, which Kasia has led.
Cumberland and Westmorland Herald Archive
From the Romantic Era Thursday 3rd March 2016
From the Sedbergh & District Lookaround
April 2016
'NOW WE ARE FIVE….'
An adventurous and ambitious programme in early March from the Sedbergh Orchestra to celebrate its Fifth birthday! Core repertoire in the Schubert 'Unfinished', some soloistic strutting in the Strauss Horn Concerto, martial stuff in the Holst, and maybe the most unexpected item because pretty rarely played, the Sullivan overture.
The Schubert for all its apparent familiarity for much of the audience is no easy ride for the band. Ensemble, tuning, pacing are all under some pressure. I liked Peter Crompton's tempi: he left space for the music to breathe, gave time for lines to develop, but we did not lose the edge of anguish and even turbulence behind the comfortable.
The Gustav Holst Marching Song was straightforwardly jolly with just a Page 57 hint of the sad, but would have meant that both fans in the audience of, and players from the Town Band in the orchestra would have felt at home.
The Strauss 1st Horn Concerto surprisingly was possibly the most problematic piece of the evening. The French Horn is usually characterised as a bluff, 'good mate down the pub' type instrument with its cheerleader sound, but, with the oboe, is arguably one of the most difficult orchestral instruments to get right and keep right. The whole concerto is a deceptively tricky piece not just for the soloist but also the orchestra. In the orchestral textures are some fearfully exposed solos and ensembles. The soloist has to face that scary first unaccompanied entry which veers exultantly up and down the register. Our soloist, Steve Messam, might not have enjoyed some passages of his own playing, but he had a big, bold tone, plenty of energy, and certainly in the last movement, a streak of impish fun that was taken up by various sections of the valiant orchestra.
For me, the Sullivan Overture di Ballo was the surprise and highlight of the evening, and the orchestra gave every impression of finding its jaunty, unquenchable tunefulness right up its street. A splendid opening to an evening that justly celebrated a fine addition to the Sedbergh musical scene.
Stuart Manger
From the Westmorland Gazette
26th February 2016
Artist swaps outdoor art for music of Strauss
ONE of the region's highest profile visual artists is swapping his site specific artworks in the environment for a tuneful touch of the classics.
Steve Messam picks up his French horn
Steve Messam, best known for his large scale and ambitious works around the Lake District, picks up his French horn as guest soloist on Thursday, March 3 (8pm) with Sedbergh Orchestra to perform the Richard Strauss Horn Concerto No 1.
The horn concerto is part of the orchestra's From the Romantic Era concert at Sedbergh's St Andrew's Church, which also includes Arthur Sullivan's Overture di Ballo, Schubert's undeniable masterpiece - the Unfinished Symphony, and Holst's lesser known but triumphant Marching Song.
Steve - who was the driving force behind FRED, the annual art invasion of Cumbria - is famed for his outdoor art works, including last year's Paper Bridge and his light installation with orchestral concert at Honister Mine. However, his musical roots go far deeper.
He started playing the French horn aged 11 and in 1985, won his school Musician of the Year competition. His talent could have been further nurtured when he was offered a sought-after place at a Saturday junior music academy in London, but did not take it up. Later, while working as a music and editorial photographer in Glasgow, he was a member of the Glasgow Symphony Orchestra and occasionally recorded with a number of alternative bands, including a session on Pete Townsend's studio boat on the Thames. Steve moved to Cumbria in 1999 and with the change of lifestyle he stopped playing music to focus on visual art.
In spite of his thriving artistic career, he made time in 2012 to 'dust off' the French horn and started playing again, initially joining the Cobwebs Orchestra in Tebay. Although he now lives in Teesdale, he's a regularly among the ranks of the the Westmorland Orchestra.
Sedbergh Orchestra is a community orchestra, founded in 2010 by Sedbergh Pepperpot Club, conducted by Peter Crompton and led by Sue Armstrong.
Westmorland and Herald Gazette
Sedbergh Music Festival Café Concert Thursday 9th June 2016
Sedbergh & District Lookaround
July 2016
SEDBERGH MUSIC FESTIVAL
The Café Concert by the Sedbergh Orchestra was held in the People's Hall on Thursday 9th June.
Leader: Sue Armstrong
Conductor: Peter Crompton
Soloist: Carole Marsden
MC: Michael Leigh
Audience enjoying the Sedbergh Orchestra 2016 Cafe ConcertPeter Crompton conducts. Soloist Carole Marsden (Oboe). People's Hall, Sedbergh
The People's Hall was packed almost to overflowing, with a few audience members, unable to find seats at the cabaret-style tables, sitting on the stage behind the orchestra. The summer heat enhanced the holiday atmosphere, as did the welcome glass of wine and the few Howgill Fell midges that, attracted by the buzz of instruments tuning up, found a way in through the open doors.
From the opening item, Auber's overture to Fra Diavolo, to the fiendishly fast rendering of Williams' Devil's Galop which ended the concert, everything was played with confidence and panache. This was helped by masterful orchestral leading from Sue Armstrong at the front of the 1st violins and authoritative directorship from conductor Peter Crompton, who, for one item, exchanged his baton for a trumpet, to play solo (with appropriate expressivity) in I Who Have Nothing.
In some items there were just a few places when precision and neatness of ensemble took second place to energetic commitment, and a tendency for the brass section to overbalance in climactic passages – but only rarely was this excessive and it always fitted the excitement of those moments.
Much of the music was by 20th century light classical British composers whose supreme skill produced music of unfailing charm and strength of character. Amongst them was Arthur Benjamin's stylishly created Oboe Concerto based on keyboard music by 18th century Cimarosa. In this the solo part was played beautifully by Carole Marsden. Another high point was the selection from the Wand of Youth Suite by Elgar in which his greatness as a composer came through clearly even in this relatively light-hearted composition.
Michael Leigh provided informative and gently humorous introductions to the music as well as steering us through a quiz in which some of us showed our age by remembering which BBC programmes used these pieces as signature tunes.
Finally we all chatted and enjoyed the wonderful buffet. Another hugely successful concert by Sedbergh's own orchestra!
Roland Fudge
Musical Firsts and Lasts Concert Thursday 24th November 2016
Sedbergh & District Lookaround
February 2017
'Musical Firsts and Lasts' Concert
On a freezing November evening at St. Andrew's, church warden Tony Reed Screen gave his customary warm welcome to the Sedbergh Orchestra and a large, well-insulated and appreciative audience.
Weber's overture to Der Freischutz began the concert. The opening was suitably operatic in mood, hushed, dramatic, and ideally paced, with great attention to detail from the first violins. Expertly taken at a sensible tempo by conductor Roland Fudge, the faster sections were played with great commitment and zeal, with an impressive accelerando in the latter stages. Occasional prominent woodwind moments were pleasing to the ear.
Helen Bartosinski, flautistssoloist in Vivaldi's Flute Concerto
The orchestra was then joined by Lancaster flautist Helen Bartosinski for Vivaldi's flute concerto subtitled "La Notte" (Night). As the orchestra was quite large, there were occasional balance problems, but this evocative piece was beautifully executed by the nimble-fingered and expressive soloist, and featured some very neat interplay between string sections. Donald Smith's cello continuo was accurate and stylish.
Hummel's Partita for wind octet followed. A serenade-like piece well suited to the outdoors with midsummer cucumber sandwich accompaniment, it was in the circumstances wisely confined to the sanctuary of the church. Directed with aplomb by first oboist Pat Hopkins, the excellent ensemble worked up an enjoyable and impressive head of steam in the rollicking finale in 6 8, leading swiftly to interval refreshments.
In the masterpiece which is Haydn's symphony number 104, the Sedbergh Orchestra successfully showed what a fine work this is. During the faster movements the tempo was very well maintained, which cannot be done without a good and rhythmic leader, who as usual was the everdependable Sue Armstrong. Contrasting aristocratic and rustic moods were well portrayed. The strings in particular have developed their Viennese sensibilities under the guidance of Roland Fudge, whose deep purple corduroy jacket was magnificent to behold, and the orchestra continues its upward trajectory as one of the jewels of the Sedbergh community.
Congratulations to all involved.
Julian Cann
A Musical Journey through Time Concert
Thursday 30th March 2017
Sedbergh & District Lookaround
May 2017
A Musical Journey Through Time
As a community, we are truly fortunate to have amongst us such dedicated musicians as constitute this Orchestra. Our Orchestra is one that we can all be proud of.
On Thursday 30th March in St Andrew's Church a large and enthusiastic audience were treated to another interesting, adventurous and entertaining programme. A musical journey through time it certainly was, moving effortlessly from Georg Philipp Telemann and the 18th century to Alexander Borodin who died on the threshold of the 20th. But this was also a journey from the Elbe to the Neva by way of the romantic German heartlands and the foothills of the Carpathian Mountains, as a wet Sedbergh evening gave way to the music of Central and Eastern Europe.
Elizabeth Dodd (Viola da Gamba) and Philip Gruar (Recorder)Telemann's Concerto for Recorder and Viola da Gamba was played superbly by Philip Gruar and Elizabeth Dodd with the Sedbergh Orchestra in May 2017.
The Concert was opened intriguingly with an interesting piece of Telemann, his Concerto for Recorder and Viola da Gamba, played superbly by Philip Gruar and Elizabeth Dodd. These instruments give a truly 18th century sound which must have pleased the wealthy burghers of Hamburg.
The Orchestra then performed one of Sir Thomas Beecham's 'lollypops' in the shape of Schubert's 'Rosamunde' overture. An interesting piece this; a fair amount of music for 'Rosamunde' exists, but no one knows whether it was intended to be an Opera or a Ballet. The overture was an arrangement for an unperformed opera entitled 'Die Zauberharfe' (The Magic Harp) in 1825. However, much of this music was eventually used in a German light Opera entitled 'Das Dreimäderlhaus' (The House of Three Maidens) by Heinrich Berte which was first performed in the war weary Vienna of 1916. This light, lively piece was played with truly Schubertian verve.
The first half of the concert was brought to a close with an enterprising rendition, admirably played, of Dvořák's Slavonic Dance no. 2 from his opus 46 set rearranged for winds. These are peasant dances from Dvořák's homeland; one listens and imagines this lively music at a village celebration of some kind, in the wild shadow of the Carpathians, where vigorous young men show off their prowess at the dance to rosy cheeked village girls in their colourful traditional costumes.
The second half of the concert was devoted entirely to Alexander Borodin's magnificent 1st Symphony composed between 1862 and 67. Five years! Borodin was, after all, Professor of Chemistry at St Petersburg and contemporary and collaborator of Mendeleyev, who created the Periodic Table of the Elements. So, a busy man!
The Orchestra was required to convey the sense of 'Mother Russia' to the audience. The vastness of the Steppes; the onion domes glinting in the morning sunlight; the sonorous Orthodox liturgy and the slow, broad, Page 32 darkling rivers winding to the sea under an opalescent sky were all portrayed. This was a big ask and the Orchestra set about it with enthusiasm.
Conductor Peter Crompton guided us all surefootedly on a journey that everyone who attended thoroughly enjoyed. A special mention must go to Sue Armstrong who led the Orchestra delightfully and to all the players, young and not so young, for the time and dedication that they all bring. A Sedbergh Orchestra; long may they continue to impress and entertain!
Nick Cross
Somme100 FILM Project Sat/Sun 8th/9th July 2017
Craven Herald & Pioneer
6th July 2017
Live orchestral screenings of historic film
to commemorate Battle of the Somme
SEDBERGH Orchestra will be performing live with The Battle of the Somme film at St Andrews Church in Sedbergh on at 7.30pm on Saturday and at 3.30pm on Sunday in Skipton Town Hall.
The performances are part of the Somme100 FILM project, which aims to bring together 100 live orchestral screenings of The Imperial War Museum's iconic 1916 film The Battle of the Somme to audiences worldwide between July 2016 and July 2017 to mark 100 years since the battle.
The original film shot by Geoffrey Malins and J B McDowell has been set to a new score by critically acclaimed composer, Laura Rossi.
The Battle of the Somme remains one of the most successful British films ever made. It is estimated over 20 million tickets were sold in Great Britain in the first two months of release, and the film was distributed worldwide to demonstrate to allies and neutrals Britain's commitment to the First World War.
The film gave its 1916 audience an unprecedented insight into the realities of trench warfare, controversially including the depiction of dead and wounded soldiers.
It shows scenes of the build-up to the infantry offensive including the massive preliminary bombardment, coverage of the first day of the battle (the bloodiest single day in Britain's military history) and depictions of the small gains and massive costs of the attack.
The performances have been organised in partnership with the Craven and the First World War Project, a Heritage Lottery Funded project which is organising a series of events to commemorate the centenary of the First World War in the Craven district.
Project officer, Rob Freeman, said of the forthcoming performances: "A live performance will be a unique and memorable way to experience this this extraordinary and moving UNESCO-listed historical film historic film, shot during the battle itself, and watched by over half of the adult UK population on its release in 1916 - a box office record not broken until the release of Star Wars in 1977."
Both performances will begin with a short talk by Alastair Fraser, author of Ghosts on the Somme, which gives a detailed analysis of the film by setting out where and when much of the film was shot, identifies individuals who appear in it and even reveals what some men are saying.
The film is rated a PG and will last approximately two hours and includes an interval.
Both performances and have been made possible by the support of Arts Council England.
Sedbergh & District Lookaround
August 2017
The Imperial War Museum commissioned a musical score by composer Laura Rossi to accompany the silent film "The Battle of the Somme" made in 1916 in the field. The Museum planned to have the film shown, and the music performed nationwide by 100 groups of musicians, of which Sedbergh Orchestra is one, as part of the World War 1 commemorations.
On Saturday 8th July St. Andrews Church was filled to capacity for this ambitious undertaking. The Orchestra gathered 50 players, and added contra bassoon, xylophone, kettle drums and wind machine to the usual instruments enhancing the sound and experience for the large audience of local people and from further afield.
Insight into the work of the production of the film was provided by Alistair Fraser, a Durham academic who has made a special study of the battle. Numerous soldiers on the celluloid have been identified and conversations transcribed from lip movement. The film was shot over 9 days and a steady hand was needed to wind the film as the fighting continued around. The morality of faking elements arose, as it does today, amongst documentary makers and news providers.
Peter Crompton conducts in Skipton Town HallThe Imperial War Museum commissioned a musical score by composer Laura Rossi to accompany the silent film "The Battle of the Somme" made in 1916 in the field. The Museum planned to have the film shown, and the music performed nationwide by 100 groups of musicians, of which Sedbergh Orchestra is one, as part of the World War 1 commemorations.
Peter Crompton the conductor donned headphones, needed to maintain a tight rhythm and contact between pictures on the screen and the musicians who could not see any, intently following scores.
The composer had been careful the work should not dominate the visual impact, the music quietly reflecting the events occasionally increasing with tempo as success on the battlefront emerged, and volume as field guns sent off shells.
The film had been shown recently in the silent version in Sedbergh with captions to explain who and what was watched. They were used at this performance, but the music added a further element and the viewer was left with a stronger recollection of what had been seen on the screen. The evening ended with tributes to the fallen and as is customary at solemn performances applause was discouraged, but one was left with a feeling of wanting to do so, to salute the achievement of the town orchestra in staging this work, which they undertook again the following day at Skipton.
Graham Dalton
Café Concert Thursday 23rd November 2017
From Sedbergh & District Around
February 2018
Café Concert
'Round the World in 60 Minutes''
When at 7.45 the doors to the People's Hall on 23rd November in the People's Hall were officially opened, an afternoon's labours were revealed: chairs and tables set out by Gina Barney and decorated by orchestra members, the Bar open (guarded by Tony Reed-Screen and Nick Cross) and the orchestra stretching after the usual last-minute rehearsal.
When the audience had collected their glasses of wine or soft drink to accompany the nibbles on the tables, and had settled down, Dr Barney welcomed us all and introduced the orchestra Leader, Val Snelling, and the Conductor, Roland Fudge.
As the music for the evening had been chosen more for light entertainment than profundity, the programme-sheet was simply a list of musical items and performers without the usual interesting background information … and what a delightful programme it was: our resident impresarios had, as usual, done us proud. Nostalgia, pageantry, eastern myth and mystery, new world rhythm and humour, all rounded off with Gilbert and Sullivan.
Roger Bush (double bass)Roger Bush taking a solo with the Sedbergh Orchestra at the Cafe Concert in the People's Hall in November 2017.
Most of the items were better known for their tunes than their titles: so the entertainment began with charming Page 45 whimsy by the erstwhile hugely popular Albert Ketelby ("Bells across the Meadows") followed in contrast by the infectious pageantry of Handel's vision of "The Entrance of the Queen of Sheba". When this was concluded Roland Fudge retired into a corner, to be replaced by Stuart Manger who read with great humour two poems as an introduction to two "concerti". These had been arranged by Roland Fudge from Saint-Saens' "Carnival of the Animals". First "The Elephant - with a Tail", which became a concerto for Double Bass, humorously played by Roger Bush,
Paddy DaviesPaddy Davies playing the Xylophone with Sedbergh Orchestra at the Cafe Concert in the People's Hall in November 2017.
the cellos and and the orchestra and then "Fossils", with young Paddy Davies on the Xylophone which Paddy persuaded to clatter away most musically and athletically. By the end there wasn't a straight face in the house. The audience then drained their glasses in anticipation of the "Top-up Interval" to the strains of those two popular war-horses: the "Blue Danube" and (featuring Pauline Bateman on Trumpet) the "Grand March" from Aida.
The second half was most ingeniously linked by three performances from Wagner's great "Ride of the Valkyries" music. This joined the mysterious East
Pauline Bateman (trumpet)Pauline Bateman playing a trumpet solo with the Sedbergh Orchestra at the People's Hall in November 2017.
(Borodin's "On the Steppes of Central Asia" and Grieg's "Arabian Dance") to the Conductor's arrangements of two New World rhythmical pieces, Piazolla's "Libertango" and Duke Ellington's "East St. Louis Toodle-oo", in which Roland took up his bow and fiddle to everyone's delight.
So we were sent to our suppers (a finger buffet provided by Pepperpot members, orchestra members, and supporters) to Sullivan's popular "Mikado" music (which generated spontaneous vocal contributions from the audience!)
Altogether a delightful evening due to a very happy choice of programme, splendid compering by Roland, splendid solos, a warm and welcoming atmosphere and the Orchestra in very good heart. Thanks once again to Donald and Shirley and to Roland for their inspiration and quiet but meticulous organisation and direction.
Rosemary Challoner